The best skincare products from The Ordinary that will finally sort out your face
Whatever your skin concern, there will be a The Ordinary product to suit – and most are less than a tenner 
W ith product names straight out of the chemistry textbook, The Ordinary has become one of the most talked-about – yet slightly overwhelming – skincare brands on the market.
Known for its effective and affordable product range, it's a great way to improve your skin without breaking the bank. The reason its huge range of products can seem daunting is that rather than selling products that contain a mixture of ingredients, The Ordinary sells the ingredients individually.
This means that not only do you know exactly what you're putting on your face, it also means you can create your own The Ordinary Regimen that's perfectly tailored to you and your skincare needs. It's also why The Ordinary is so cheap. You're not paying extra for excess marketing and packaging or ingredients that may be of no use to you.
To help you choose which are the best The Ordinary products for you, we've divided this article into the skin concerns you're looking to solve, as opposed to listing the products. If you don't suffer from enlarged pores, but redness is a particular concern. You can scroll straight down to the redness section. Alternatively, if you're looking to get rid of blemishes and fight the signs of ageing, you can mix and match the products within these sections. Another beauty, excuse the pun, of buying ingredients at source.
The best The Ordinary products
Before we list the best The Ordinary products for different skin concerns, we need to do some housekeeping. Whilst The Ordinary seems to be everywhere, not all of its products are for everyone.
Some of the direct acids may not be suitable for sensitive skin, and all products require a patch test first. We suggest introducing one product at a time in order to reduce the chance of irritation.
If you have any skin conditions such as acne, rosacea or eczema, or if you are using any medicated creams or treatments such as Accutane, speak to your doctor or dermatologist before introducing any of these products.
And of course, while you should be using an SPF daily anyway, it is especially important to use SPF after using any of the direct acids mentioned here. This is because they make the skin particularly sensitive to the sun and sun damage.
Now that we've made that clear, it's time to convince you that using The Ordinary doesn't require a BSc in Chemistry…
The best The Ordinary products for Enlarged pores
Enlarged pores are caused by a variety of lifestyle and genetic factors. If you have oily skin, for example, you'll likely have enlarged pores. As you can read in our Men's skin vs women's skin: What are the differences and does it affect what products you should buy? guide, men tend to have thicker but more oily skin so they have larger pores.
This is because when excess oil, dead skin cells and dirt collect in your pores, your skin swells and your pores look larger than normal. Oily skin can be hereditary or as a result of your diet.
The Ordinary Niacinamide 10% + Zinc 1%
£5 | Buy now from Boots
The Ordinary
This is by far the most raved about product from The Ordinary, and having used this product for years, we can see why it quickly sells out on multiple sites as soon it's back in stock.
Whilst Niacinamide 10% + Zinc 1% centrally targets the main cause of enlarged pores – congestion – this product is a true multitasker.
As well as de-clogging pores of the dirt and pollution they collect throughout the day, the zinc in this treatment targets excess oils and helps reduce breakouts.
How to use: Apply after cleansing and before heavier creams either to the whole face or to target problem areas.
Avoid: Do not use this product at the same time as any products containing Vitamin C or Vitamin C serums.
If you are using products with Vitamin C, make sure you use this with that on opposite ends in the day, for example, Vitamin C in the morning and Niacinamide 10% + Zinc 1%.
Buy now from Boots
The Ordinary AHA 30% + BHA 2% Peeling Solution
£6.25 | Buy now from Cult Beauty
The Ordinary
If you've been wondering what that weird AF blood-red face mask is that's gone viral on Instagram, look no further.
The Ordinary's AHA 30% + BHA 2% Peeling Solution provides chemical exfoliation deep into your pores to improve radiance. It looks and feels just like blood – but it's not, we promise.
The AHAs (which stands for alpha-hydroxy acids) serve to exfoliate the top layer of your skin, resulting in a brighter complexion, whilst the BHAs (beta hydroxy acids) go below the skin's surface to clear congestion.
This mask instantly improves the appearance of your skin, and with regular use, has been proven to have long-term anti-ageing benefits.
We're currently in the process of reviewing this mask to see if it actually lives up to its claims and after just one use, or skin looked noticeably brighter and was less oily.
How to use: We'd recommend using this once every two weeks for five minutes, to begin with. This mask can cause some inflammation and a stinging sensation. Once you've got used to the product, you can use it once a week for a maximum of ten minutes. Apply this mask to dry skin and remove with lukewarm water.
Avoid: This product is not suitable for sensitive skin and should not be used if you do not have prior experience with chemical/acid exfoliants. Do not use this product alongside any retinol products. Avoid direct sunlight and use SPF.
Buy now from Cult Beauty
The best The Ordinary products for redness
From sensitive skin to rosacea and eczema, the causes of redness and inflammation vary in severity. It's usually a sign that your skin isn't happy about something so be careful when introducing new products and keep an eye on any that cause a reaction or make things worse.
The Ordinary Hyaluronic Acid 2% + B5
£5.90 | Buy now from Boots
The Ordinary
A hero product for all ages and skin types, The Ordinary's Hyaluronic Acid 2% + B5 provides hydration that soothes red and irritated skin and assists with general skin repair.
Hyaluronic acid is a strong humectant, meaning that it can attract up to 1,000 times its own weight in water, providing deep hydration.
This specific formula is enhanced with Vitamin B5 to encourage hydration on the surface of the skin. We firmly believe this is an essential product in your skincare routine, regardless of skin type.
How to use: Apply morning and evening after cleansing onto damp skin (we like to use a facial spray but water is fine). Use before any serums or heavier creams.
Buy now from Boots
The Ordinary Azelaic Acid Suspension 10%
£5.50 | Buy now from Deciem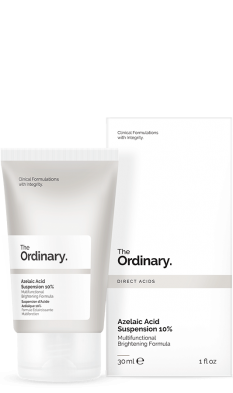 The Ordinary
Another multitasker, the Azelaic Acid Suspension 10% targets dullness and uneven skin tone, brightening any redness. It can also be used to effectively combat irregular skin texture, all-round improving the appearance of the skin.
Its lightweight formula means that it sinks into the skin without leaving any sticky residue or making the skin look oily, which is certainly a pet peeve for us!
How to use: Can be used in the AM or PM, after cleansing, toning, and any water-based serum. Follow with a moisturiser.
Avoid: Do not use alongside any other strong acids, peptides or antioxidants.
Buy now from Deciem
The best The Ordinary products for blemishes and acne
We're back with a quick reminder: whilst these are effective treatments for blemishes, none of these products should be used as a long-term treatment for acne. If you suffer with persistent or severe breakouts, we recommend consulting a doctor to discuss the best course of treatment. You can read more in our What is acne? guide.
The Ordinary Squalane Cleanser
£5.50 | Buy now from Deciem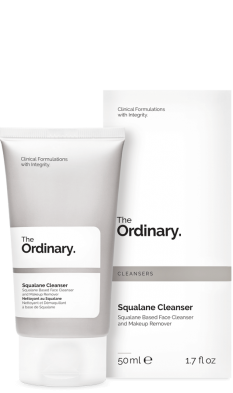 The Ordinary
While it sounds basic, the best cleanser should form the foundation of any skincare routine for blemish-prone skin.
We love this Squalane Cleanser because it transforms from a balm consistency to oil when applied to your hands or face, providing for gentle and effective cleansing.
Squalane is a gentle ingredient that dissolves trapped dirt and facial impurities that can cause blemishes if not removed properly.
We recommend this product regardless of skin type as an essential first step in your skincare routine.
How to use: We recommend a double-cleansing routine, using the Squalane Cleanser as your first step to remove dirt or pollution from the day. Massage between your palms for 30 seconds in order to activate the oil-like consistency, then apply to the face. Remove with a warm washcloth. Can be used morning and evening.
Then follow with a gentle foaming cleanser to leave the skin fresh and clean. Double cleansing is always a good idea, just to make sure your skin is clean. Follow up with toner to remove any remaining traces of cleanser and dead cells.
Buy now from Deciem
The Ordinary Salicylic Acid 2% Masque
£5.50 | Buy now from Deciem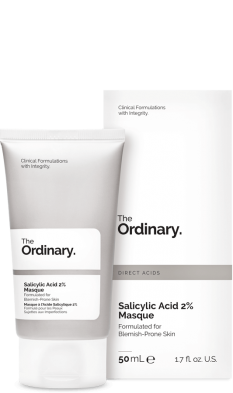 The Ordinary
Salicylic Acid is a miracle product for reducing the appearance of blemishes and fighting acne. It gets deep into your pores to remove impurities and dead skin cells, and it reduces the production of excess oils which can exacerbate blemish-prone skin.
We love this product as a gentler alternative to The Ordinary's Salicylic Acid 2% serum, although the serum can provide additional benefits as a targeted spot-treatment, and can increase the effectiveness of this routine for blemish-prone skin.
How to use: Apply once a week to dry skin and leave on for no longer than 10 minutes. Rinse off with lukewarm water.
Avoid: Do not use this product if you have especially dry or sensitive skin.
Buy now from Deciem
The Ordinary Glycolic Acid Toner
£6.80 | Buy now from Deciem
The Ordinary
This toner is best suited to people with acne-prone skin and, because it contains glycolic acid, this toner offers mild exfoliation for the skin.
This removes dead skin cells and gives you fresher, brighter skin. It also improves skin texture to the point that if you've got scarring from acne, using this on a continued basis should help reduce it and make it less visible.
To avoid the irritation that can come from using AHAs, The Ordinary has found that using Tasmanian Pepperberry helps reduce the impact.
The Pepperberry is what gives the toner its pale peachy colour.
This glycolic acid toner also contains ginseng root and aloe vera which gives you the radiance and soothing benefits with results being in as little as a week.
How to use: After cleansing, saturate a cotton pad and sweep across the face and neck. Use this in the evening and no more frequently than once per day.
Avoid: You may notice an increase in skin sensitivity so avoid direct sun contact and use an SPF product to avoid the chances of sunburn. Limit sun exposure while using this product for a week after while your skin adjusts.
Buy now from Deciem
The best The Ordinary products for ageing
The Ordinary Granactive Retinoid 2% in Squalene 
£7.80 | Buy now from Deciem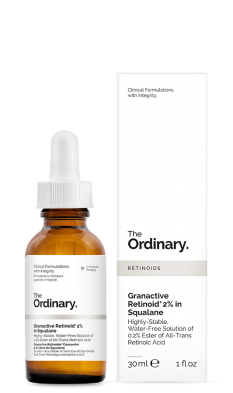 The Ordinary
If exploring retinoid and retinol treatments feels like a minefield to you, we recommend you start with The Ordinary's Granactive Retinoid 2% in Squalene.
We love this retinoid treatment as it is an especially gentle formula that offers anti-ageing benefits without the irritation associated with other retinoid and retinol treatments on the market.
This lack of irritation has become a particular selling point of some of the latest skincare launches.
How to use: Introduce this product slowly into your skincare routine, starting twice a week in the evening until you are confident that it will not cause irritation. Even though it causes less irritation than many other retinoid products, it could still cause problems if your skin is particularly sensitive.
We also recommend using this treatment every evening after water-based serums, followed by heavier creams or moisturiser.
Eventually you can progress to the higher potency Granactive 5% in Squalene. SPF is an absolute must when using this product.
Avoid:  Use with caution if you have acne-prone skin as this product may cause breakouts for the first few weeks of use.
Do not use with any other retinoid or retinol treatment. Do not use with Vitamin C, benzoyl peroxide (common in acne treatment creams), or AHA/BHA products.
Buy now from Deciem
The Ordinary 100% Organic Cold-Pressed Rose Hip Seed Oil
£7.80 | Buy now from Deciem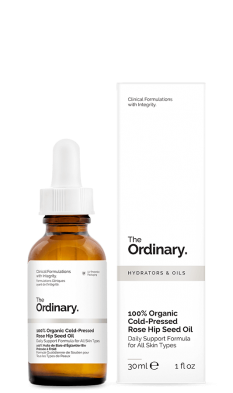 The Ordinary
Rich in linoleic acid and pro-Vitamin A, The Ordinary's 100% Organic Cold-Pressed Rose Hip Seed Oil is an excellent gentle anti-ageing treatment.
Vitamin A has been proven to reduce the appearance of wrinkles and research suggests that it may even assist in skin-reconstruction.
And while Rose Hip Seed Oil also offers great anti-ageing benefits, this product suits all skin types because of its moisturising properties and its ability to reduce the appearance of acne scarring and dark marks.
How to use: Apply once a day in the evening after water-based serums. We recommend letting this fully dry first before sleeping on any white pillows (trust us!)
Buy now from Deciem
The Ordinary Matrixyl 10% + HA

£9.60 | Buy now from Cult Beauty
The Ordinary
If you're after a more intense anti-ageing treatment, give The Ordinary's peptides range a try.
Peptides are like the bricks in proteins that give our skin bounce and elasticity – namely collagen, elastin and keratin. As these proteins decrease, our skin becomes sallow, saggy and wrinkled.
By applying peptides to the skin, it triggers cells to build more collagen and elastin, to make your skin look younger.
Matrixyl is a trademarked peptide composition that has been shown to improve the appearance of wrinkles. Even deep-set ones.
The formula in The Ordinary's product contains two generations of Matrixyl – Matrixyl 3000 and Matrixyl synthe'6 – at a combined concentration of 10% and the peptides in these are palmitoyl tetrapeptide-7 and palmitoyl tripeptide-38.
These peptides are carried in hyaluronic acid (hence the HA in this product's name) to help sink them deep into your skin.
How to use: Apply a few drops to your face morning and night but do not combine with Vitamin C or products containing Ascorbic Acid, and do not use on broken skin.
Buy now from Deciem
Subscribe to the MBman newsletter to stay updated