Best tweezers UK: Get rid of ingrown hairs, rogue eyebrows or tidy up your sprouting nose and ear hairs
Whether you're looking to keep your ingrown hairs in check or tidy up your rogue eyebrow, nose, ear, or chin hairs, we've put the best tweezers to the test 
Tweezers. One pair is just like another, right? Sadly not. They come in a range of shapes, sizes and prices and can be used for a multitude of things – keeping ingrown hairs in check, tidying up eyebrows, getting rid of your rogue nose and ear hairs, and even pulling out verrucas and warts. We don't recommend doing the latter though…
Below we've listed what we consider to be the best tweezers in the UK to suit all budgets and to hopefully satisfy all hair-related tasks.
FURTHER READING: Men's eyebrows: How to trim, shape and tidy up bushy male eyebrows
Best tweezers UK
1. Tweezerman Slanted Tweezer – £21.95
2. Boots Tweezers Straight – £2
3. Regine Diamond Slanted Tweezers – £75
4. Tweezerman Toolmates Eyebrow Kit – £29.90
5. Tweezer Guru Pointed Tweezer – £19.99
1. Editor's Pick: Tweezerman Slant Tweezers
£21.95 | Buy now from Amazon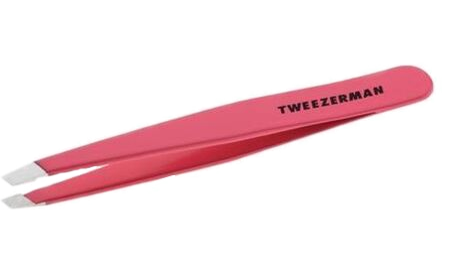 Tweezerman
There's a reason why Tweezerman continually top the list of best tweezers, and they win countless awards. It's because they're super accurate and super hard-wearing.
This means that they're able to pick up even the most stubborn of hairs and they'll last for months without going blunt. You can buy them in black, blue, red or grey.
The downside is that this makes them a little pricey. You can buy a mini version, which comes in at £12.95 – so you're saving yourself six quid. of tweezers! These award-winning tweezers will not let you down.
Buy now from Amazon
2. Bargain Buy: Boots Tweezers Straight
£2 | Buy now from Boots

Boots
They won't last as long as the more expensive entries in our best tweezers list, nor will they be as accurate meaning you may nick the skin.
However, for just £2 for these Boots straight-edge tweezers, you can't really complain. Plus, if you're looking for tweezers that will only be used every now and then, then these are more than good enough. They even come with an easy-to-hold grip, which other tweezers don't.
They won't win awards but then who cares if they do what you need them to do.
Buy now from Boots
3. Luxury Buy: Regine Diamond Slant Tweezers
£75 | Buy now from Amazon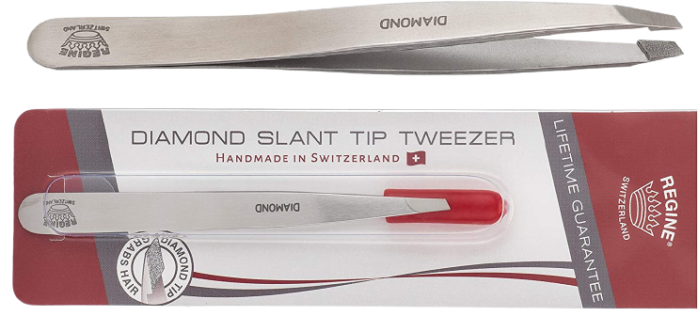 Regine
If you thought the Tweezerman tweezers were pricey, cop a load of these Diamond Slant Tip tweezers from Regine Switzerland.
No, £75 isn't a typo or mistake. They cost so much because they're engineered by master Swiss craftsmen Regine and each pair goes through a 40-step finishing process before being tested under a microscope. This is to make sure each pair is perfectly aligned, super sharp and are at "the perfect angle" – something the brand prides itself on and claims is the reason why these tweezers are so great.
In fact, Regine claims promises that these tweezers grip the hair and pull it from the root every time. Not only does this save time, it should also reduce the pain. Regine also offers a Lifetime Guarantee so you'll only need to fork out this spenny price one.
Buy now from Amazon
5. Best tweezers kit: Tweezerman Toolmates 
 £29.90 | Buy now
Tweezerman
This kit gives you three of the best tweezers for a relatively low price (all things considered) of £30. This may seem like a lot but considering our Editor's Pick from the same Tweezerman brand comes in at £19, get three for less than twice the price doesn't feel so bad.
This kit includes what the brand calls the Slant Tweezer, the Ingrown Hair Splintertweeze as well as a precision razor. The former promise to be "perfectly aligned" and come with a hand-filed, 25-degree angled precision tip.
As its name suggests, the Ingrown Hair Splintertweeze has an ultra-sharp, pointed tip that can help lift and remove anything embedded under the skin, including ingrown hairs as well as spots (again, we don't recommend the latter, but we've done…).
The precision razor is then perfect for trimming the hairs between your brows, trimming around your moustache or beard, and tidying up your hairline. It's also good for intimate areas or smoothing off your chest. Just be careful, and hold them at an angle to get the best results.
They come with a magnetic holder which we never use. In fact, we think it looks like a public urinal so we ditched it pretty quick, but it's a nice touch should you want it.
Buy now
6. Best tweezers for ingrown hairs: Tweezer Guru Pointed Tweezers
£19.99 | Buy now from Amazon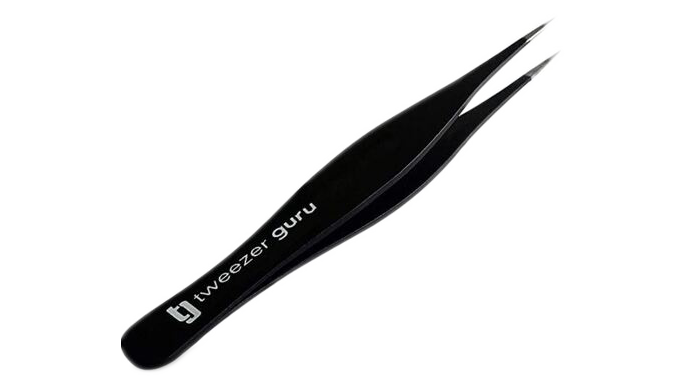 Tweezer Guru
Speaking of pointed, super-sharp tweezers, these from Tweezer Gure are perfect for removing ingrown hairs, splinters, facial hair, and more.
They're made from durable stainless steel and this makes them very sharp so we don't advise going anywhere near your nether regions with these!
Buy now
MORE LIKE THIS
Subscribe to the MBman newsletter to stay updated