Is your skin dry or dehydrated? Here's how to find out and what to do about it
There's a difference between having dry skin and dehydrated skin – and it's possible to have both at the same time. Here's everything you need to know about skin dehydration
A s you can read in our what skin type do I have? guide, there are six common skin types but they largely fall within three main versions – dry, oily, and combination.
Dry skin is typically characterised by roughness, flaking, and cracked skin but there are a few key differences between having a dry skin type and having dehydrated skin.
Anyone can experience skin dehydration, regardless of what their skin type is, and treating dehydrated versus dry skin isn't always straightforward.
To explain the differences and discover how to prevent, and treat skin dehydration, we have expert advice from Kimberley Medd, Head of Clinic at Face The Future.
Dehydrated skin
Below we list the differences between dry skin and dehydrated skin – including what signs to look for; reveal what could be making the dehydration and we recommend what to look for when buying dehydrated skin products.
Dry vs dehydrated skin
"Dry skin is caused by a lack of oil in your skin, whereas dehydrated skin is caused by a lack of water in your skin," Medd explains.
The amount of oil, or sebum, that your skin produces is largely down to genetics, but it can also be affected by hormones, age, and what skincare you're using. There are also skin conditions, such as eczema, that cause the skin to be overly dry. To balance sebum production – to reduce it in oily skin, and increase it in dry skin – typically involves a concerted effort and choosing the right kind of products.
By comparison, dehydrated skin can come and go, and is much easier and quicker to treat.
Signs of dehydrated skin
admin | MBman
It can be difficult to tell if your skin is dry, dehydrated, or even both. However, there are a few signs of dehydrated skin to look out for.
Signs of dehydrated skin: Less elasticity, which means your skin will take a while to 'snap back' if pulled or pinched; fine lines; cracked lips; itchiness
Signs of dry skin: Roughness; flaking; cracked skin; scaling; loose skin
FURTHER READING: What skin type do I have? Discover how to know your skin type with our skin types guide
How to treat dehydrated skin (for free)
You don't need to pay a fortune on moisturisers for dehydrated skin. Making some simple – and free – changes to your lifestyle can help.
Drink more water
It's an obvious one but it's the most important thing you can do to treat dehydrated skin. "Your skin is made up of 30% water, and although drinking plenty of water won't hydrate your skin alone, it will help your body stay hydrated and will also help to support your essential functions, too," says Medd.
Drink less alcohol
"Alcohol is a diuretic, which means it forces water out of your body and makes it harder to hydrate again afterward," continues Medd. "If you've experienced a heavy night of drinking, you'll know that familiar dehydrated feeling the next morning, and you'll have most likely seen the effects on your skin, too."
We're not saying you need to cut out alcohol completely if you don't want to, but if you want to treat dehydrated skin it's worth cutting back. Alternatively, have a glass of water in between alcoholic drinks to help your body retain hydration.
Cut down on salt; increase healthy fats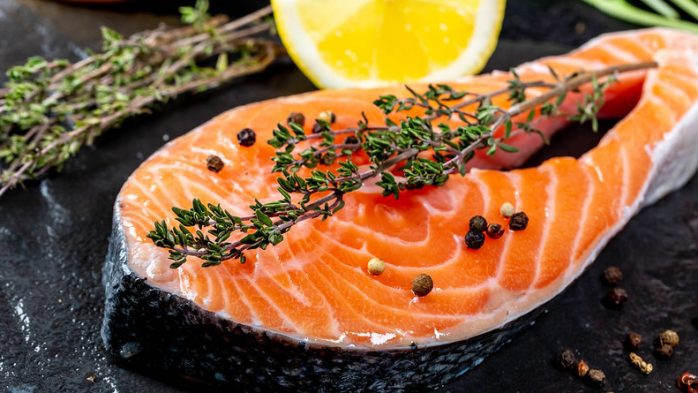 Marco Verch/Flickr
Just like alcohol can impact how your body reacts to hydration, so too can eating too much salt. "Salty foods may taste great, but they're actually super dehydrating for your skin too. If you have a diet that's too high in sodium, you'll notice the changes in your skin such as irritation and itchiness," adds Medd.
"What you put into your body really does show on the outside so eating a healthy diet of nourishing foods really helps to improve your skin."
Try to increase:
Salmon
Sardines
Tuna
Seeds and nuts – especially almonds, flax, macadamia, pumpkin, and walnuts
If you can't eat more of these types of foods, because they don't come cheap or you're allergic (or you just don't like them), you can also take supplements that help hydrate from within.
Get more sleep
Getty Images/iStockphoto
This is easier said than done but getting more sleep is the best thing you can do for your skin. As Medd summarises: "Better quality sleep has been linked with increased moisture barrier recovery.
"With a strong moisture barrier, your skin is able to retain moisture and hold onto hydration much more effectively. Not to mention, your skin cells renew and repair during the night, so the better and more consistent your sleep pattern, the better your skin will look and feel."
Avoid hot showers and baths
They may feel super relaxing but having showers or baths that are too hot can wreak havoc on your skin. "Hot baths and showers are a key culprit in stripping your skin of essential oils and moisture, leaving your skin barrier impaired and unable to retain moisture quite so well. Lukewarm baths and showers that don't last very long are the best for your skin."
FURTHER READING: Everything you need to know about your skin barrier – from what it is to why it becomes damaged and how to repair it
Best dehydrated skin products
Compound Interest
In addition to making the free lifestyle changes listed above, you can also buy products for dehydrated skin.  You just need to make sure that you get the right products in the first place, and that you stick to using them for at least six weeks. This is how long it takes your skin cells to regenerate and for any real difference to become noticeable.
"Cementing a proper skincare routine that's tailored just for your skin type will make a world of difference to how your skin both looks and feels. A proper skincare routine ensures that your skin gets the vital ingredients it needs when it needs them. It also helps to support your skin with the ageing process – aiding cell renewal and repair to leave you with a radiant complexion."
At the time of writing, the most hydrating products we've tried are as follows:
We also highly rate the Purito Deep Sea Water Cream as it hydrates almost as much as the Clinique jelly but it's cheaper. 
FURTHER READING: Best moisturiser for men: The best men's moisturiser for dry, oily, acne-prone and dull skin
Another great way to treat dehydrated skin is with weekly exfoliation.
Humanrace
"Weekly exfoliation is really helpful in sloughing away dead skin cells and other impurities that have built up on your skin," continues Medd. "It allows you to give your skin a deep cleanse which means that your skincare products can properly penetrate your skin and work at a deeper level.
"It also helps to promote skin regeneration which in turn improves the texture and tone of your skin."
It's important that your exfoliator isn't too harsh on your skin, however, because this can cause it to strip your skin of its natural oils. We recommend chemical exfoliators that use ingredients like glycolic acid, as well as gentle scrubs. The Medik8 Pore Refining Scrub contains both, and it's great for hydrating your skin while clearing your pores to manage breakouts too.
If you're looking to treat dehydrated skin with more natural ingredients, or you want to know which ingredients to look out for when shopping for dehydrated skin products, we recommend:
Avocado butter
Shea butter
Coconut oil
Honey
Just bear in mind that such products can – but don't always – clog pores so combining it with a scrub like Medik8's will prevent this without you having to sacrifice on hydration.
admin | MBman
"With fatty acids and plenty of vitamins, these natural ingredients can help your skin to stay hydrated, leaving you with suppler, smoother, more skin," says Medd.
And finally, don't forget to always use SPF. Every day. Even in winter.
"Protecting your skin from harmful UV rays helps to keep your skin healthy and your natural skin barrier strong. The sun's harmful rays damage your skin barrier, making it harder for your skin to retain moisture and hold hydration. It's important to wear SPF daily, even on cloudy, rainy days, as UV rays are always present."
MORE LIKE THIS
Subscribe to the MBman newsletter to stay updated