The best skincare for men with sensitive skin – and what to avoid
We've handpicked the best skincare for sensitive skin and detail which ingredients to look out for, and which to avoid when shopping for moisturisers and more
I f you have red or dark skin, especially if it's itchy and putting anything on it makes it feel hot or tingly, chances are you've got sensitive skin.
Sensitive skin is largely genetic, but it can also be caused by stress.
You can develop sensitive skin as you get older because our skin barrier gets weaker the older we get and, over time, this can cause increased sensitivity.
Alternatively, it can be caused by using a product that isn't right for your skin.
This is why it's important that you choose skincare with the right ingredients for your skin type. To help, we've put together a list of tried-and-tested skincare for sensitive skin that hopefully suits most budgets.
If you're not sure what skin type you have, take our skin type quiz.
Best skincare for sensitive skin in men
1. Probiotic Balancing Day Cream | Buy now – £33
2. Bargain Buy: CeraVe Hydrating Cleanser | Buy now – £7.50
3. Sisley Black Rose Cream Mask | Buy now – £124
4. Cetaphil Daily Hydrating Moisturiser | Buy now – £14.50
5. The Ordinary 100% Organic Cold-Pressed Argan Oil | Buy now – £5.90
6. The Body Shop Aloe Vera Soothing Day Cream | Buy now – £16
7. Face Theory Relaxing Night Cream | Buy now – £12.99
1. Probiotic Balancing Day Cream
£33 | Buy now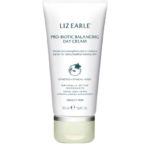 Liz Earle
This day cream has microbiome-balancing skincare ingredients making it ideal for sensitive skin. It's got nutrients in it, as well as pre, pro, and postbiotics. All of these help to protect your skin's barrier throughout the day.
There's also the sensitive skin ingredient jojoba oil, as well as chicory, and lunaria oil, which help to moisturise your skin without irritation
This day cream for sensitive skin is also fragrance-free to limit the risk of any inflammation.
The smell of the product is quite oat-like, but that's the natural smell of the ingredients inside.
You need to apply it after you've washed your skin by massaging it into your face and neck, and it's designed to leave your reactive skin more balanced, clearer and less tired-looking.
Buy now from Boots
2. CeraVe Hydrating Cleanser
£7.50 | Buy now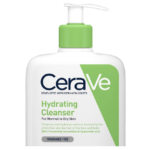 CeraVe
You don't just need to look for the best moisturiser for sensitive skin, you also need a cleanser for sensitive skin and you can't get much better, especially for the price, than this hydrating cleanser from CeraVe.
All CeraVe products are developed by dermatologists to work effectively for the specific skin type they're targeted at. This sensitive skin cleanser refreshes the skin without over-stripping it or leaving it feeling tight or dry.
External elements, such as dirt, makeup, and oil – particular problems if you work outside – can make your skin's sensitivity worse so this cleanser helps get rid of all that from your face in a non-irritating way.
Hyaluronic acid is a key ingredient to look out for if you have sensitive skin and that's because it has antioxidant properties that can help protect and shield your skin against the outside world. Essentially it helps boost your skin barrier, which is definitely what you want to help your sensitive skin, and what you'll find in this cleanser.
Buy now from Amazon
 3. Sisley Black Rose Cream Mask
£124 | Buy now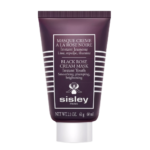 Sisley
This Sisley cream mask is great skincare for sensitive skin and is hailed by celebs for its ability to soothe irritated sensitive skin.
That's because it has Vitamin E and chlorella, which are both known in the skincare industry to have revitalising effects.
However, the black rose is the key element that helps to soothe, moisturise and nourish your sensitive skin.
If you feel your skin is looking dull and lacklustre then we recommend you opt for this cream mask for sensitive skin.
Unlike other skincare masks on application, this one won't feel like it's tightening your face and will instead just give you a slight tingle. This is usually a no-no for sensitive skin but on this occasion, you can be assured it's working as it should.
Buy now from Sisley
4. Cetaphil Daily Hydrating Moisturiser
£14.50 | Buy now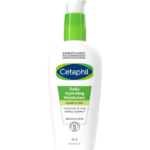 Cetaphil
This cream-based moisturiser contains the key ingredient hyaluronic acid, along with other ingredients that help to lock in moisture and protect your skin all day.
Another bonus is it's fragrance-free, so it shouldn't irritate your skin and it's lightweight, which stops it from blocking your pores.
You should apply this to your face after you've just cleansed your skin. You can also apply throughout the day if you want.

Buy now from Boots
5. The Ordinary 100% Organic Cold-Pressed Argan Oil
£5.90 | Buy now
The Ordinary
The Vitamin E in the argan oil in this The Ordinary oil works as an anti-inflammatory for red, reactive skin, making it great in men with sensitive skin.
The argan oil also helps to control your skin's oil production by balancing out your sebum levels, meaning you'll have fewer outbreaks, less irritation and reduced acne.
It can also be used on your hair to help stem hair loss. This is becauseit contains fatty acids, vitamins, and carotenes. It'll also help your lips and nails too, so it ticks so many boxes for your sensitive skin.
All you need to do is add a few drops to your whole face, or you could instead opt to mix it in the palm of your hand with a moisturiser. For your hair, work it into your damp hair following a wash.
Buy now from Sephora
6. The Body Shop Aloe Vera Soothing Day Cream
£16 | Buy now
The Body Shop
This Aloe Vera day cream will help leave your sensitive skin calmer, softer, and less dry.
Aloe Vera has cooling properties that help get rid of redness, irritation, rashes, and sunburn, therefore making it great in skincare for sensitive skin.
It's also a great skincare ingredient if you suffer from acne, eczema, and rosacea.

Buy now from Body Shop
7. Face Theory Relaxing Night Cream
£12.99 | Buy now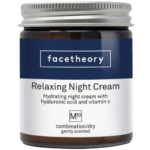 Face Theory
If you're looking for a night cream for sensitive skin, we recommend the Relaxing Night Cream from Face Theory.
It has a few of the key ingredients that are good in skincare for sensitive skin, including hyaluronic acid, argan oil, and shea butter.
There's also Vitamin C. In larger doses, Vitamin C can cause irritation to sensitive skin, but the amount in this particular night cream should work well for your sensitive skin.
This Face Theory night cream is free of parabens, silicones, and other ingredients that would usually cause your skin to be irritated.
Using this cream overnight will help to moisturise and brighten your skin, so that it looks healthier and less tired when you wake up. 

Buy now from Facetheory
Best skincare for sensitive skin: What to look out for
Sensitive skin is more prone to inflammation and adverse reactions, such as itching and redness than any other skin type. It can also become dry when it loses too much water and oil.
Much like our gut, our skin has its own unique ecosystem of bacteria, fungi and viruses that impact how it functions. Therefore, it's vital you get the balance right, so your skin is glowing and hydrated.
A healthy skin microbiome means your skin barrier will help keep moisture in and keep irritants out. That's why it's essential to use the right skincare products for sensitive skin.
FURTHER READING: Best moisturiser for men: Discover which moisturiser best suits your skin
Best ingredients for sensitive skin
When it comes to choosing the best ingredients for sensitive skin, you need to look for:
Aloe Vera
Argan Oil
Jojoba
Rose water
Chamomile
Shea Butter
When shopping you'll also want to look out for skincare products labelled, 'fragrance-free,' or, 'unscented.' Another good thing to look out for when buying skincare for sensitive skin is microbiome-balancing ingredients, such as ceramides, probiotics and prebiotics.
These help to restore the ideal ratio of good bacteria to bad bacteria on your skin because an imbalance of bacteria can be another cause of skin redness and sensitivity.
Worst skincare ingredients for sensitive skin
The skincare ingredients you should avoid when looking for skincare for sensitive skin include:
Alcohol (particularly SD alcohol, denatured alcohol and isopropyl alcohol)
Sulfates
Exfoliants (minimal use is ok but don't scrub too hard and opt for gentle chemical exfoliants rather than physical ones
Preservatives
Ammonia
These ingredients can dry out the skin, weaken the skin barrier and cause your skin to flare up, and potentially react badly.
MORE LIKE THIS
Subscribe to the MBman newsletter to stay updated